Benefits Fair
Do you need in-person assistance with your benefits questions? Benefits vendor representatives and MSU HR staff will be available at the MSU Benefits Fair to answer your questions and/or help you enroll in your benefits on-site. Both days will be held on campus at the Breslin Center. Visitors should enter through Gilbert Pavilion/Hall of History. The dates/times for this year's Benefits Fair are:
October 8, 2019
Noon to 7 p.m.
October 9, 2019
7 a.m. to 5 p.m.
Vendors Attending
The following benefits vendors and MSU units will be attending the fair this year:
| | | |
| --- | --- | --- |
| Health |   | MSU Benefits Plus |
| Blue Cross Blue Shield/BCN |   | ARAG (Group Legal) |
| Best Doctors/Teladoc |   | Liberty Mutual (Auto & Home) |
| CVS/Caremark |   | MetLife (Critical Illness, Auto & Home) |
| Aetna Dental |   | Transamerica (Long-Term Care) |
| Delta Dental |   | VSP (Vision) |
| Livongo (Diabetes Management) |   | MSU Units |
| Retirement |   | MSU Health Team |
| Fidelity |   | MSU HealthTeam Pharmacy (Flu Shots) |
| TIAA |   | MSU WorkLife Office |
| Life and AD&D |   |   |
| Prudential |   |   |
| Flexible Spending Accounts |   |   |
| WageWorks |   |   |
Directions and Parking
The entrance for the fair will be the Gilbert Pavilion/Hall of History, directly in front of Lot 63W.
Employee Parking: You may want to park in Lot 63 East (entrance off Shaw Lane).
Vendor & Visitor Parking: You may want to park in Lot 63 West (entrance off Harrison Road). You will be responsible for any parking fees, which are currently $1.00 per 30 minutes.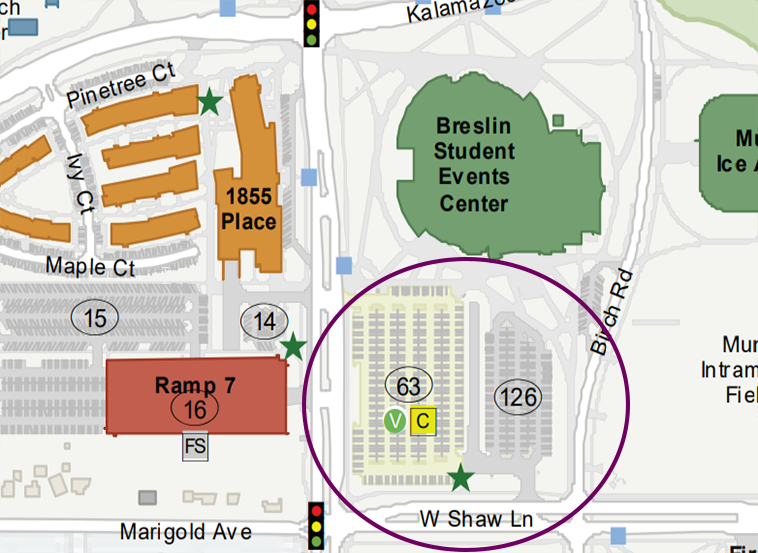 If you are using a navigation system, please use this street address for the Breslin Center:
Breslin Center
534 Birch Road
East Lansing, MI 48824
Additionally, you may want to follow this link to our  interactive campus map.
Flu Shots
Thanks to the MSU Health Team, the flu vaccines will once again be available at the Benefits Fair for eligible faculty, staff, retirees, and their dependents. There will be no cost to employees, retirees or eligible dependents who have pharmacy insurance coverage, such as those enrolled in MSU health plans. Individuals should bring their prescription benefit card if they are not currently a patient at either campus pharmacy. Learn more here.
The last vaccines will be given 30 minutes before the close of the fair each day to allow adequate time for monitoring for any adverse reactions to the vaccines. The following vaccine options will be available:

Flu injections for adults 18 years and older

High-dose flu injections for ages 65 and older, by request
Chair Massages
Stop by and enjoy a 10-minute chair massage compliments of the MSU Health4U Program. Massage times will take place during the duration of the fair each day.