ABOUT US
Michigan State University's diverse and talented workforce deserves an outstanding employee experience. That's where MSU Human Resources comes in. We cannot do the jobs of our faculty and staff, but we strive to make doing their jobs easier by offering high-quality services, processes, programs and information.
To contact us, please use our HR Solutions Center by calling, emailing or visiting.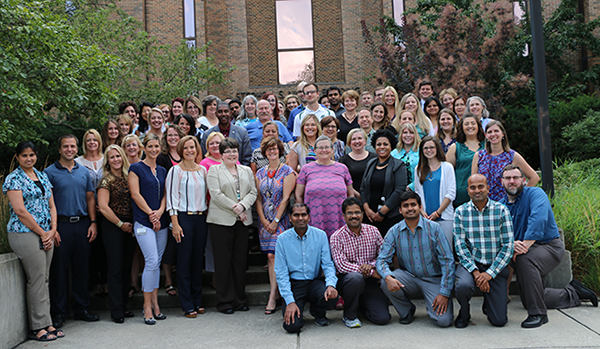 Our Mission
Our mission is to support the university's strategic imperatives by anticipating and meeting the needs of a changing community through high-quality, innovative services designed to advance  student success and cutting edge research .
Our Core Values
Accountability – We hold ourselves and each other accountable to be committed to our mission/roles and to deliver exceptional performance results and professional behavior.
Recognition – We consistently acknowledge each other for our work, accomplishments and the demonstration of behaviors that align with our mission.
Inclusion/Input – We involve and empower each other in problem solving and decision making; we treat people in a manner that they feel valued, respected and appreciated; we share the common understanding that everyone's thoughts and ideas are welcomed.
Service – We provide exceptional service by delivering responsive, high quality, accessible and innovative customer service with integrity, excellence and compassion.
Effective Communication – We share information openly by establishing two-way communication methods and by communicating respectfully and frequently with customers, peers, supervisors, and leaders
Ethical Practice - We will maintain the highest levels of personal and professional integrity and act as ethical agents who promote core values, integrity, and accountability throughout the organization.
Our Organizational Structure
MSU Human Resources is led by Associate Vice President Sharon E. Butler. She reports to the Executive Vice President for Administration. Our organization chart can be found here.
Our Transformation
MSU Human Resources recently went through a signification reorganization and transformation of processes and services. Watch the video below to learn more.
If video does not play in your browser, click direct link to view.