Contact MSU Hr
MSU Human Resources is located at:
1407 S Harrison Rd., Suite 110
East Lansing MI 48823
HR offices are open Monday - Friday 8 a.m. - 5 p.m.
Closed weekends and University Holidays.
Important Note: Due to efforts at MSU to reduce potential coronavirus exposure, effective Monday, March 16, 2020, the HR Solutions Center is temporarily suspending walk-in services. We are still open and ready to assist you via phone or email. If you have forms or other items to drop off, please deposit them in the green lock box in the parking lot near the front drive. Thank you for your understanding.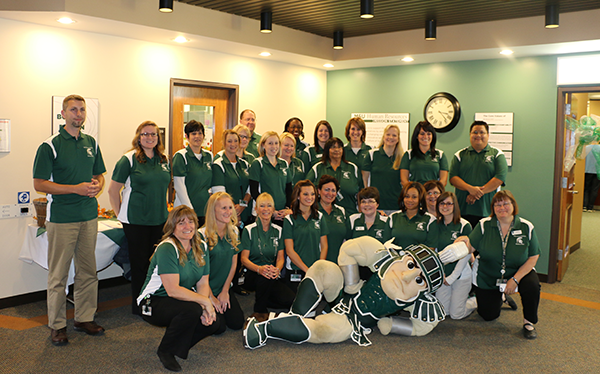 General Information
Solutions Center: 517-353-4434 or 800-353-4434 or SolutionsCenter@hr.msu.edu for most HR-related questions or concerns.
The following areas of HR can be contacted directly:
Employee Relations: 517-353-5510 or hr.er@hr.msu.edu for questions related to unions, grievances, arbitration and employee discipline.
Organization and Professional Development: 517-355-0183 or ProDev@hr.msu.edu for questions related to professional development courses, leadership development and training programs for units.