STAFF DEVELOPMENT PROGRAMS
Organization and Professional Development (OPD)
OPD offers a wide range of learning opportunities to help support staff meet their professional development goals and boost their career. They provide instructor-led classes, certificate programs, leadership development and custom departmental programs, in addition to administering the Educational Assistance and Course Fee Courtesy programs.
Important Update: Due to the outbreak of the novel coronavirus, in-person OPD courses have been suspended. Instead, select courses will be available in a live, online format. During this unprecedented public health situation, it is vital that we take every precaution to safeguard and promote the safety of our employees. We encourage you to continue your professional development via OPD virtual courses and by using  elevateU , a free online learning platform for MSU faculty and staff. Find courses, videos, books and more on a variety of topics.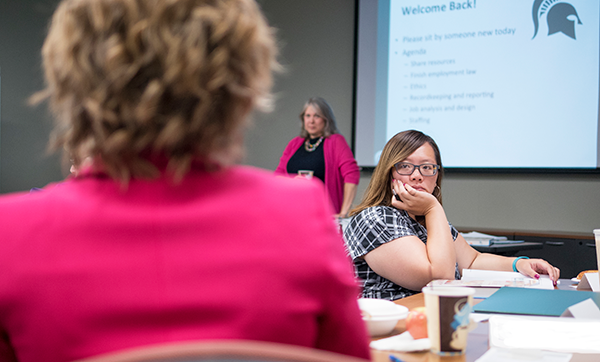 Supporting Your Success
If MSU is to continue to be a leading research university, we need talented staff who are continually developing their skills to meet the needs of a rapidly changing world. Every staff member contributes something valuable to the overall success of MSU in our educational, research and outreach missions. And all staff members, no matter how skilled they are today, need to keep learning. Learn more about development, goal setting and annual evaluations for support staff on the MSU Performance Excellence site.