U.S. Veterans, Active Guard and Reserve
Supporting our Troops 
MSU is dedicated to hiring, retaining, and facilitating the success of military veterans. Those coming to us off active duty find a welcoming environment in hiring, placement and support.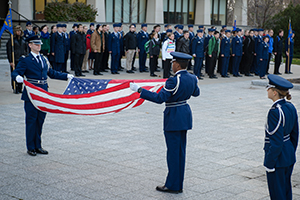 Work at MSU
We encourage all veterans to apply regardless of age or time in service. Military skills can be converted to occupational skills that MSU values. Our Human Resources professionals make every effort to match skills with current openings. 
Learn at MSU
MSU has a generous education allowance for faculty and staff that works with the GI Bill® to ensure a quality education for veterans. For those wishing to complete a degree, MSU is committed to higher education for all of its staff.
Continue your service
For those who continue to defend our state and nation as Reservists or in the National Guard, MSU has a generous leave policy and provides income matching to ensure service does not place an added financial burden on families.
Get started
If you are a veteran and are wondering if MSU is the right place for you to pursue a job or career, we encourage you to review the many openings listed on the MSU employment opportunities page.
MSU values the strength of character in America's veterans. You took the time for us; now we can take the time for you.
Use this website to learn how to apply for a job, explore veteran events at MSU and discover resources at MSU and in the community.
If you are a veteran working for MSU and have not  declared your veteran status, then now is the time. Data collected is confidential and only reported in aggregate.
GI Bill® is a registered trademark of the U.S. Department of Veterans Affairs (VA). More information about education benefits offered by VA is available at the official U.S. government website at  https://www.benefits.va.gov/gibill.