EBS PORTAL UPDATES
A few changes came to the EBS Portal in December 2019.
New Features and Updates
Known Issues
New Features and Updates
Button Location Update
In various applications, some buttons that move users to the next screen or complete a process have been moved from the top of the screen to the lower right corner. This is consistent with how buttons appear in other applications and is beneficial for people who use assistive technology.
(The location of buttons for initiating and approving Pay Changes and/or Cost Redistributions has not changed.)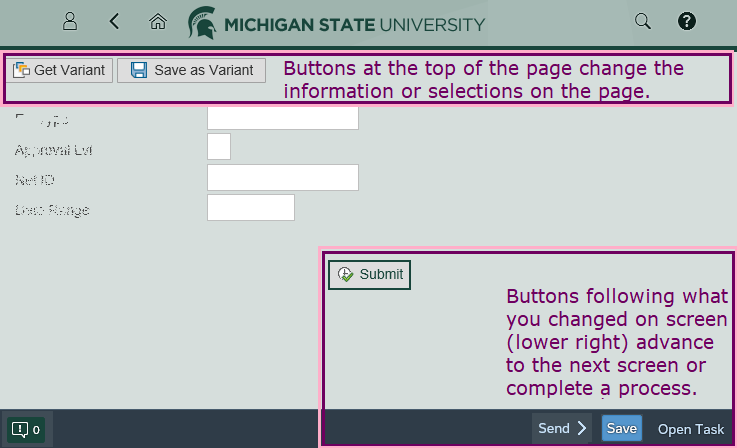 Time Entries and Statements Application Color-Coding Update
In the Time Entries and Statements application, the color-coding in the calendar pane has a refreshed and simplified, yet familiar, look.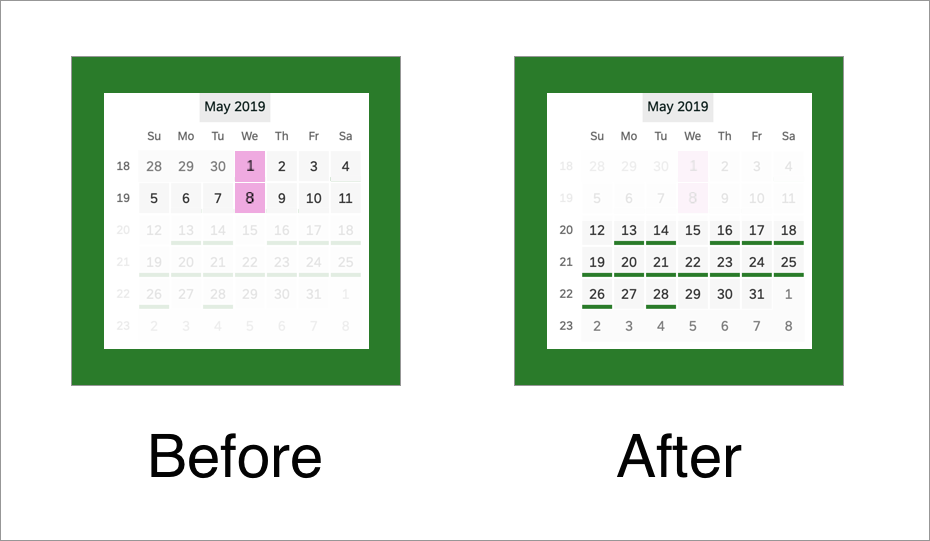 Automated Save Draft Feature
Saving drafts of forms is now easier for Unit Administrators. Forms have a "Save and Next" button, which automatically saves a draft when moving to the next step on the form.
Known Issues
Size of Stop Light Graphic in Forms
The stop light graphic that some forms utilize to indicate the status of entries in the cost distribution is smaller and difficult to see. We are working with the vendor to update this issue asap. This issue affects several forms used by Unit Administrators to manage:
Faculty/Academic Staff
Graduate Assistants
Undergraduate or Professorial Assistants
Bookmarks and Favorites
If, prior to September 14, 2019, you had bookmarked a page inside the EBS Portal, or are now clicking a link from a prior email, you will receive a message asking you to update your bookmark. You will be automatically taken to the same page with a new URL.
If you had bookmarked the EBS login page, you will find a notice that the page has moved, with a link to a new page. Please change your bookmark to:
https://secportal.ebsp.msu.edu
Shibboleth Errors
Or you receive an "App could not be opened either due to an incorrect SAP fiori launchpad configuration or a missing role assignment" error.
To re-teach your browser the proper URL, you may need to type it into your browser's address bar. Type:
https://secportal.ebsp.msu.edu
You may have to do this with other URLs as well. See a this list of Enterprise Business System URLs.
It may also be helpful to clear your browser history. Directions for each browser are below:
Home button
On some pages Home button will give an error "This Page contains unsaved data. Are you sure you want to leave the page?" even if nothing has been changed. It is safe to click the "OK" button.
Back button
If the Back button on the portal header doesn't work, use the Back button in the application itself.