Second Login
During the transition to the New MSU Unified Login Experience, some tiles in the EBS Portal will require a second login screen. These tiles are no longer on the same login system as the EBS Portal itself, thus preventing Single Sign-On (SSO).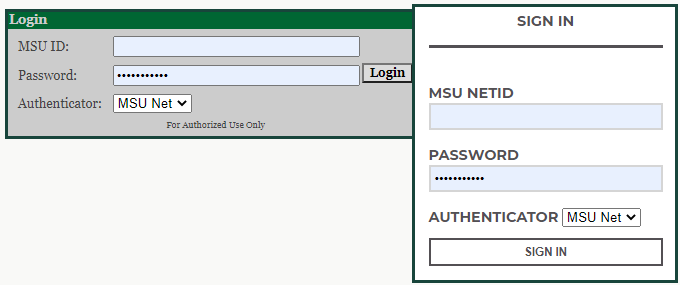 [If you are getting a prompt just to go through Multi-Factor credentials again, visit our Multi-Factor prompt page for information on how to control that.]
Will this always happen?
You may not encounter a second login if you have already established a Single Sign-On (SSO) session by logging into other applications that still use Sentinel for login.
What are the affected tiles?
These tiles still use the Sentinel login (URL starting with https://login.msu.edu/?App=):
Donate to MSU with Payroll Deductions
Educational Assistance System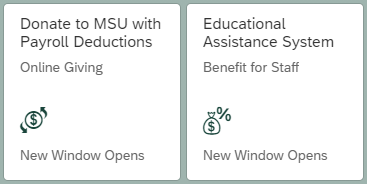 Tiles that use Landing Pages
Additionally, the tiles below take you to a landing page, from there you can click through to Single Sign-On:
Ability Training Compliance
(Select "NetID Login")
Handshake
(Select "Michigan State University Sign On")
Careers @ MSU
(Select "Applicant Login", then "Next")
U-Track
(Navigating through to certain links will initiate Single Sign-On)
No Single Sign-On
Finally, MSU Benefits Plus does not use Single Sign-On; you will need to create your own account.