SUmmary page - HRP1116
The Leave Of Absence Report (HRP1116) provides users summary data for a particular college, department, or employee for the criteria selected on the prompt page. The summary page provides the following data columns:
Organization Code
Organization Name
Department Code
Department Name
Sub-Org Code
Sub-Org Name
Personnel Subarea Code
Employee Subgroup Name
Job Title
Pay Scale Level
Annual Salary
Years Of Service
Action Start Date
Action Type Code
Action Type Name
Action Reason Name
Off Campus Name
Estimated Leave Return Date
Dynamic Filters:
Users can take advantage of additional filtering functions to perform analysis while staying within the report. The report provides a drop-down option to filter report results without backing out of the report. You can filter by any type of leave of absence reason that is available within the results.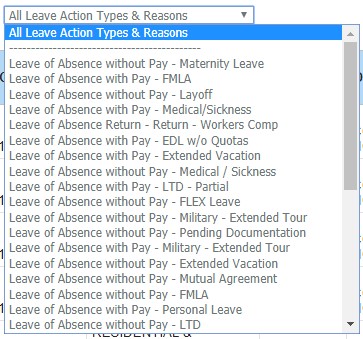 Please Note:
Employees who are retired, terminated, or withdrawn from the EBS system may not show a subsequent "leave of absence return" action in the report.
Employees who have been off of work longer than the maximum leave of absence allowed by their position will not populate in this report. This action in EBS is processed as "End Of Leave" and employees will be excluded.