| | |
| --- | --- |
| In This November Support Staff Issue | |
Extraordinary Impact: Not Just Another Open Enrollment
Fall is a busy time – maybe you mark it as the start of the new semester, the start of MSU football, the changing of seasons or all of the above. The first thing you think of when you think of fall is probably not Open Enrollment. But this time of year comes each fall for MSU employees, and while it might not be at the top of your list, it is definitely important. By making sure you select the benefits to fit your life, you can focus more on your family, your health and the important work you do.

Here in HR, Open Enrollment is one of our busiest times of year – from making sure the system works smoothly for you to enroll, to updating plan summaries so you have a clear understanding of what's available to you, to answering any questions you might have. The entire HR team gets involved with Open Enrollment because we understand that we are all part of Team MSU. By helping you enroll in your benefits, you can turn your focus to the vital work you do every day to serve our students, campus, community and the world.

We're right here, Team MSU, cheering for you. Spartans Will.
Open Enrollment by the Numbers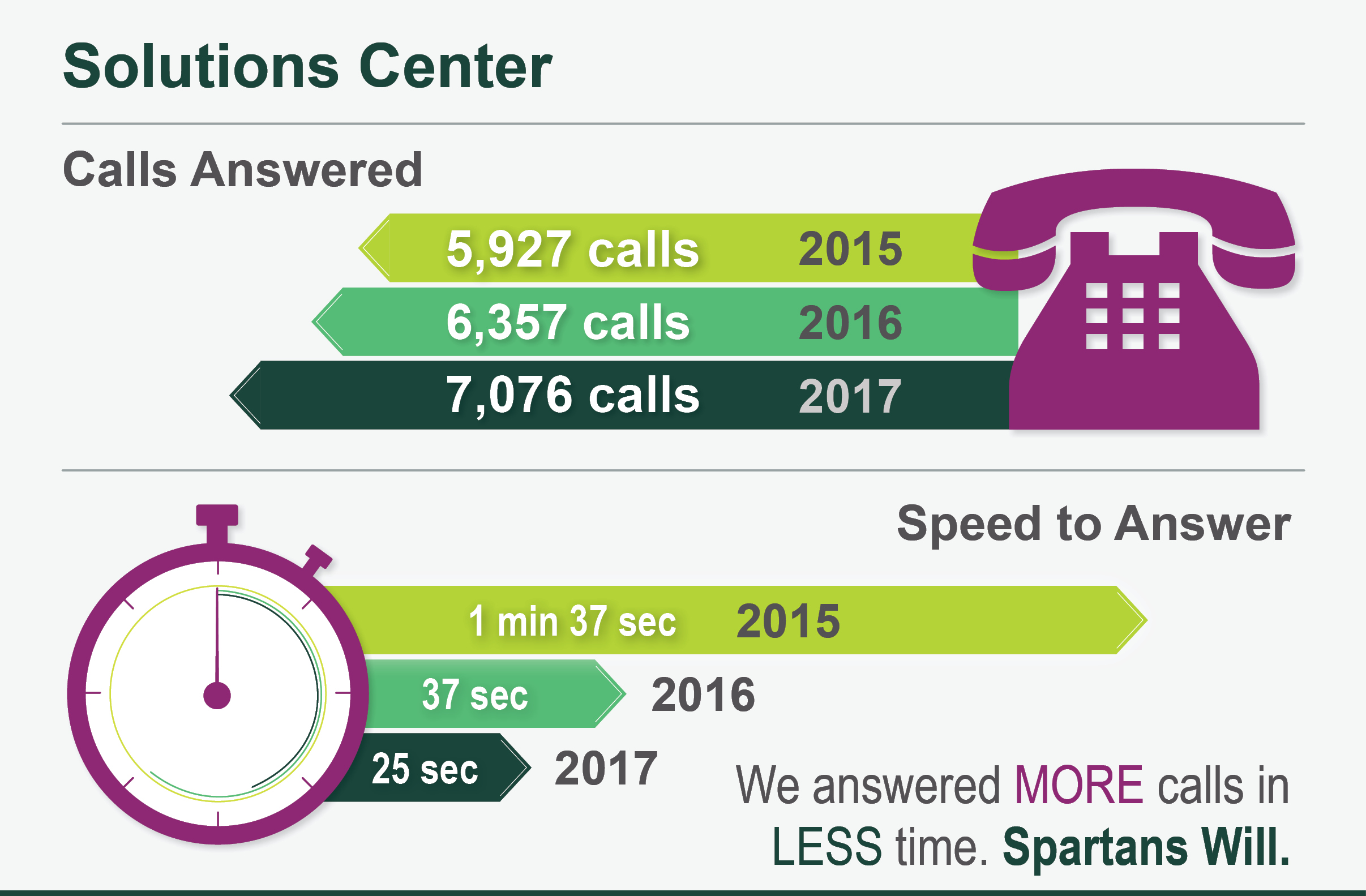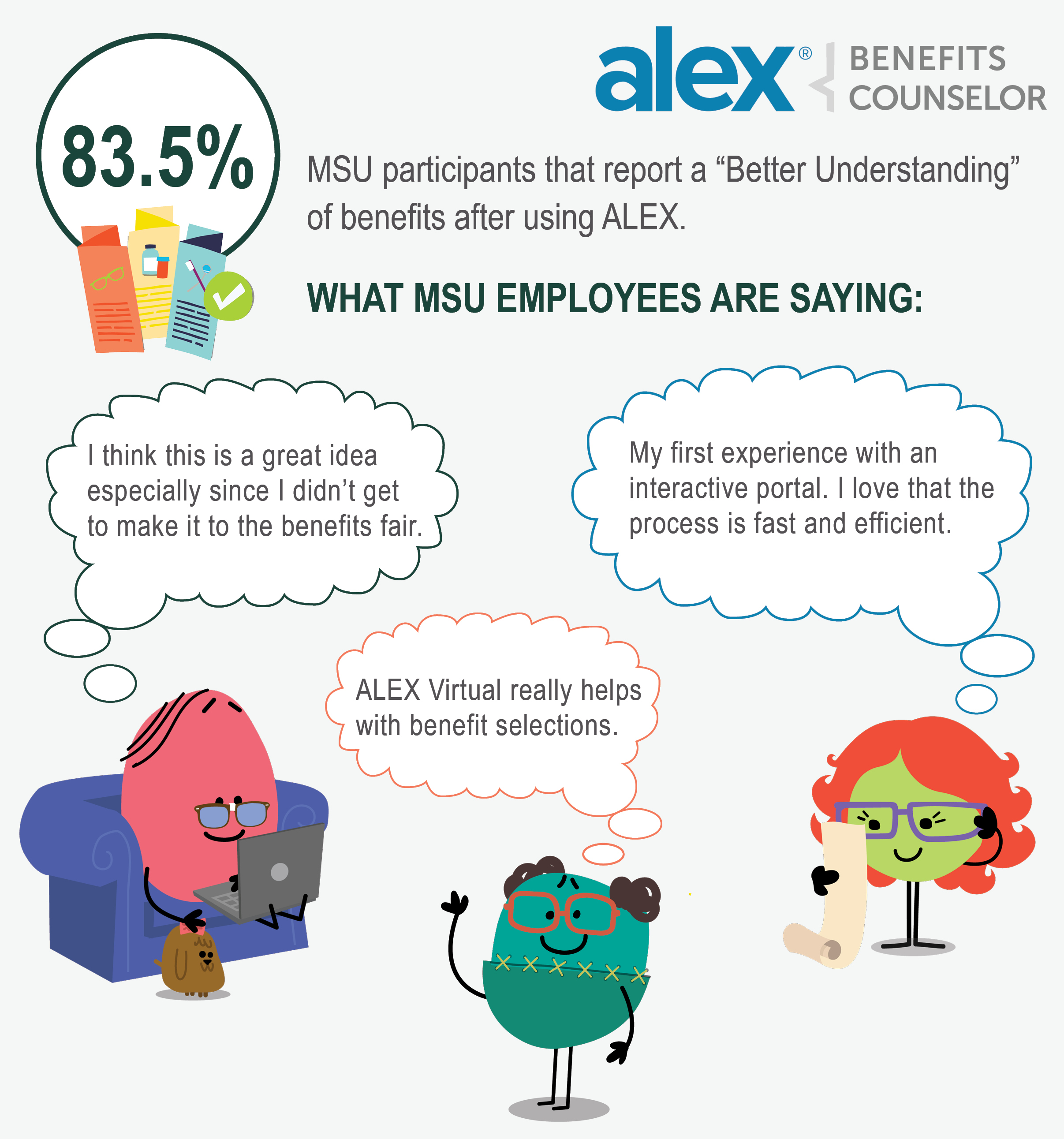 ---
CATA Transit App Available for Support Staff
| | |
| --- | --- |
| CATA recently announced its partnership with Transit, an international mobile app, to bring real-time trip planning and bus tracking technology to the region. This free app allows community members to access CATA's bus routes, ride-sharing options, walking directions, bike path options and Uber all at your fingertips. The app is available for download on iPhone and Android devices. Visit the CATA website to learn more.  | |
2017 Outstanding Supervisor Award Recipients

Congratulations to this year's recipients of the Outstanding Supervisor Award. This award was established to recognize supervisors across the University community who demonstrate consistent support of the work/life (professional/personal) needs of their employees. 2017 marks the sixteenth year of this award. Various academic and support staff units submitted nominations this year, representing a wide variety of departments and position levels. 

This year's winners include:

Diane Cox

Theodore Curry II

Kirk Domer

Richard Lenski

Elizabeth Simmons

Andrew Widner
2017 Clerical-Technical Award Winners

| | |
| --- | --- |
| Every year there is a staff member chosen as the winner of the Clerical-Technical Recognition Award. This winner exemplifies respect and concern for all members of the MSU community, diligence in daily work, significant contributions to the community or public service and innovative thinking. The award is sponsored by the Thomas and Concettina Gliozzo Endowment Fund. This year marks the 15th anniversary of the award. To commemorate the occasion, two recipients were selected. This year's winners are Wendi Winston and Tracy Abbott – Congratulations!  | |
Ruth Jameyson Award Deadline

| | |
| --- | --- |
| The nomination deadline for the eighth annual Ruth Jameyson "Above and Beyond" Award is January 26, 2018. The award is designed for an MSU staff member who is pursuing a post-baccalaureate degree. It will recognize an individual who most closely exemplifies the contributions, personal characteristics and commitment to MSU demonstrated by Ruth Jameyson, a former MSU staff member. A stipend of $2,500 will accompany the award. The recipient will be honored at the Jack Breslin Distinguished Staff Award reception. Learn more about the award. | |
Courses for Employees at MSU System Refresh
---
Tools for MSU Travelers Abroad
| | |
| --- | --- |
| Are you planning to travel internationally on MSU-affiliated business? Don't forget to register your travel in the MSU Global Travel Registry. This tool launched in April as a replacement of the Traveler's Abroad Database. Registration of international travel will activate MSU-provided international health and evacuation insurance coverage and will facilitate emergency support services. Registration is an essential tool to promote the health and safety of MSU travelers abroad. Learn more about the Global Travel Registry. | |
---
Our Commitment
Look around the room: Name five things that you can see. Name four that you can touch. Name three that you can hear. Two that you can smell. And one that you can taste

This simple "grounding" technique – helpful in easing anxiety, staving off a panic attack or weathering a flashback – is among the coping skills that students can learn this fall through MSU's wide array of individual and group therapy services for survivors of sexual assault. Learn more here
| | |
| --- | --- |
| For Supervisors and HR Unit Representatives | |
Form I-9 Instructional Videos
USCIS released videos on the updated Form I-9, Employment Eligibility Verification, on September 29. These three short videos will help employees complete Section 1 of the I-9 and employers complete Sections 2 and 3.

As of September 18, 2017, all employers must use the updated Form I-9 with the revision date 07/17/17 N. To learn more about Form I-9, see the revised M-274 Handbook for Employers, Guidance for Completing Form I-9 and visit I-9 Central.
Update on Applicant Tracking System Resources

| | |
| --- | --- |
| As of November 1, 2017, the ARO project website is being decommissioned. Training resources can be located in the following sections of the HR website: | |
Holiday Schedule for Support Staff Postings
| | |
| --- | --- |
| What You May Have Missed on the SourceLive Blog | |
| | |
| --- | --- |
| Upcoming Professional Development Opportunities | |