Query Manager Reports
Information Given by Report:
This view provides you with a list of security roles and unrestricted emails.
Glossary:
Course – A topic offered on a specific date. "Course" queries only return information for a specific date.
Course Type – The general topic of a course. "Course Type" queries will return information for all course dates in the specified date range.
Security Roles – These queries can only report on roles in the underlying HR/Payroll System, and are limited to common end-user roles (Employee Self-Service, Manager Self-Service, Unit Administrators, Unit Time Administrators).
Restricted email addresses – Some employees' email addresses are restricted from other employees, including HR and Para-HR professionals. The names of these employees are returned, but not their email address (or MSU Net ID).
External Persons – are people who are in the course, but were entered as a non-employee. Many, in fact, have a relationship with MSU and an MSU email address.  Since these people are a different data set, they show in a different column.
How to Search using Basic Criteria:
When you enter the Query Manager Link you will encounter the screen below: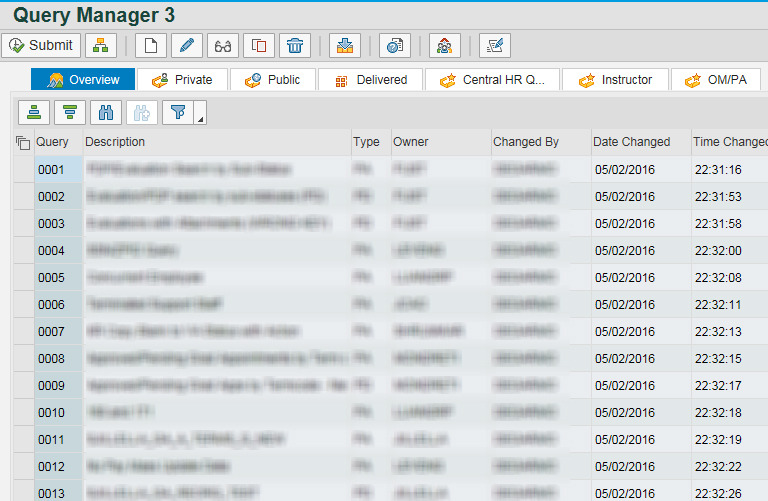 From here, you will want to navigate to the tab labeled "Instructor":

Notice, there are four query reports listed. Select the desired report by clicking on the square to the left of its name.  The button will appear sunk in, then press the "Submit" button. 
You will then encounter the screen below: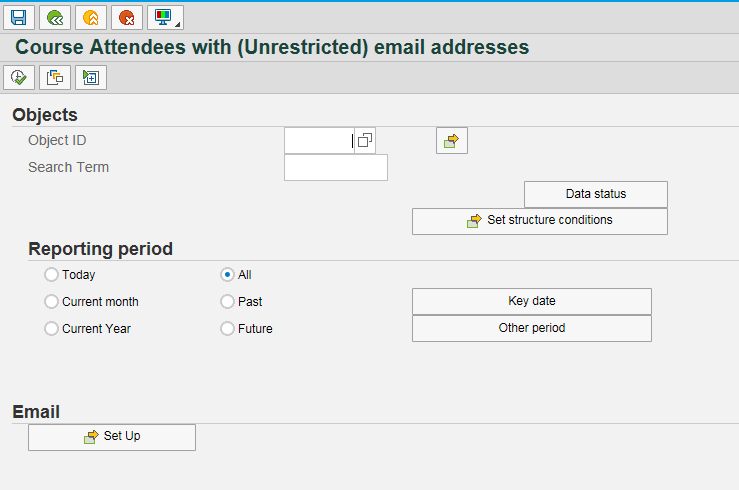 Here you can search for the course you wish to pull security roles or unrestricted emails for and it will return a list of persons. You can do so by using the search

 button  located next to object ID. 
The default function for Reporting Period is "all". However, you may search for courses in the past, future or, by selecting the "Other Period" function, you can enter the specific date range in which you'd like to search:

After you fill out the fields above, press "Execute"

 button and you will receive the screen below. If it is not already on the "Abbreviation and Name" tab please navigate to it. 
You can then fill out either one of the fields (you do not need both) and press enter on your keyboard to run your search. For example, if you are looking for the course "Query Manager Basics", you would enter one of the following:

Your search results will look like this. Select your desired course by highlighting it in blue and pressing the green check mark at the bottom of the window:

This will fill in the "Object ID" field with course code. You now have the option to select a date range using the functions located in the "Object selection period" box. Choose from past, current and future dates as well as determining specific date ranges such as an entire semester using the "Other Period" button:
How to Manage Search Results:
Once you have completed the steps above run your search by clicking the "Execute"

 button in the toolbar at the top of your screen. This will return your results page which will look like this:

From this point you can manage the items viewed in your table by selecting the "Change Layout"  

 button. This will present you with the following two columned screen. You can add and remove fields as you please by using the arrows in the middle. After you have made your desired changes, you may click the green check mark to view your new table: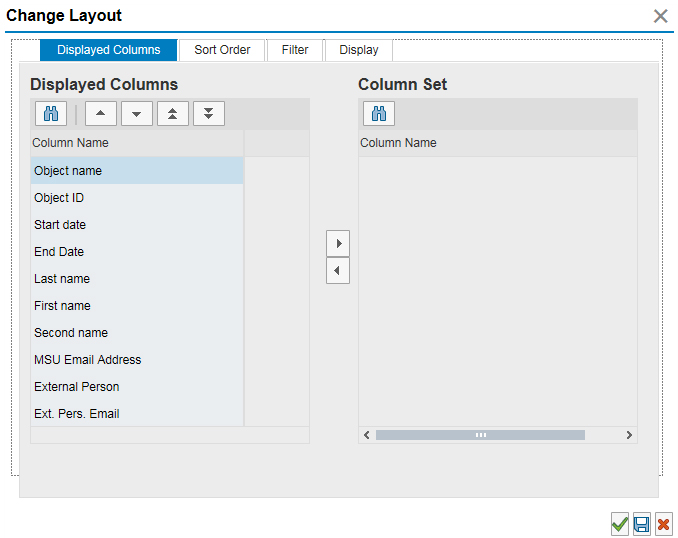 If you wish to save this layout as a variant for yourself to view in the future, you may do so by clicking the "Save Layout"

 button. This will provide the screen below where you can enter an abbreviation and a name in their respective fields: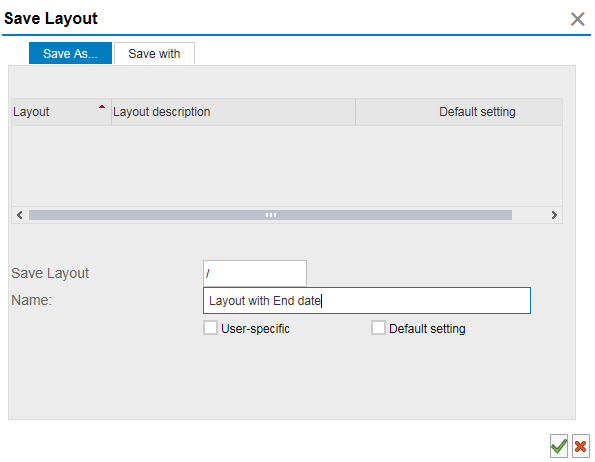 Press the green check mark on each window and your new layout will appear. You can access all saved layouts by using the "Select Layout"

 button.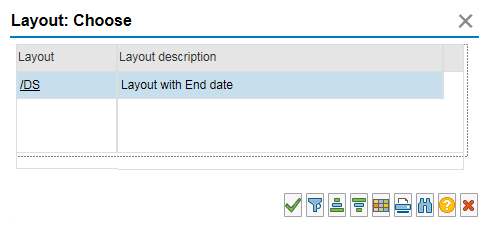 Download Instructions