December 2017 Software Updates
Software vendors update their products throughout the year. This sometimes leads to temporary incompatibility between them. Below are three issues related to the EBS Portal that will hopefully be resolved later this year.
An update will be provided in summer 2018, the next time the vendor will update the software.
My Benefits Links
The first time you click a tile under the My Benefits section of the EBS Portal, it may not open. Click the "Home" icon, then try the application again. It will open.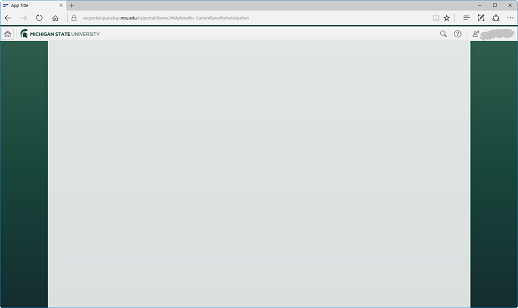 Firefox ESR: Browser Limitations
There are a number of applications that Firefox ESR cannot run. They are:
Supervisors

Unit Administrators

Employee Data Report
FMLA Balance and Usage
Quota Balance Summary
Quota Usage Detail
Position Details & Relationships
HR Forms & Cost Redistributions
Dark Buttons
In some applications, when using the help lookup (or pressing the F4 key) the toolbar appears partially as gray icons on darker gray background. The vendor is working on a fix to this issue. If you have difficulty seeing a button, hover your mouse over it to see the tooltip text, as shown below.

Ad Hoc Approver for Pay and Cost
Similar to above, some buttons are missing in the screen where an ad hoc approver is added to a Pay Change or Cost Redistribution. However, the screen can still be used following these general steps.
From the screen, lookup an approver as before. Note, you may have to scroll across the pop-up window to make the field fit.
Then, select the "Add" button (paper icon with plus sign) that is visible in the toolbar at the bottom of the window.
Once the approver is added on screen, the "Continue" (white check mark on green circle) will appear. Select this to add the approver.